About My Future My Choice
My Future My Choice was set up in 2009 to address the need identified by businesses and school leaders for practical opportunities for young people to engage with the world outside school.
Businesses worked with educationalists and engineers to design exciting learning opportunities for use by employees going into schools. Activities and products are practical ways of working with the school's curriculum and helping young people think about what they need to do now to be happy and successful in the future.
A range of products have been created that explore soft skills as well as specialist knowledge required within different industry sectors and the importance of balancing elements of life for personal wellbeing.
The focus is on the ages 5 to 16 with emphasis on the points in a young person's life when they are facing transition from one phase of education to another at ages 10/11 and 13/14. This focus was determined by research funded by the GE Foundation where schools and business evaluated root causes of poor attainment to pinpoint where most impact could be achieved by a business's intervention in schools.
New ideas and improvements continue to be made in response to requests from businesses and schools. The current need to inspire future engineers and boost the confidence of children and teachers with practical scence and engineering or design, and build activities is reflected in recent product developments.
My Future My Choice directs edcuation activity for the The Bristol Initiative Charitable Trust and the The Balmoral - Britain's Famous Pleasure Steamer These partnerships and activities with businesses across the UK has enabled thousands of young people to create 'loose-ties'* to possible futures and encouraged them to take action-steps now that could help them secure a happy and successful future.
*Research shows that having 'loose-ties' to more than four people and visiting cultural venues has a significant impact on employment and social mobility (M. Granovetter 1973 et al and the Deloitee Review for Education and Employers Taskforce 2010).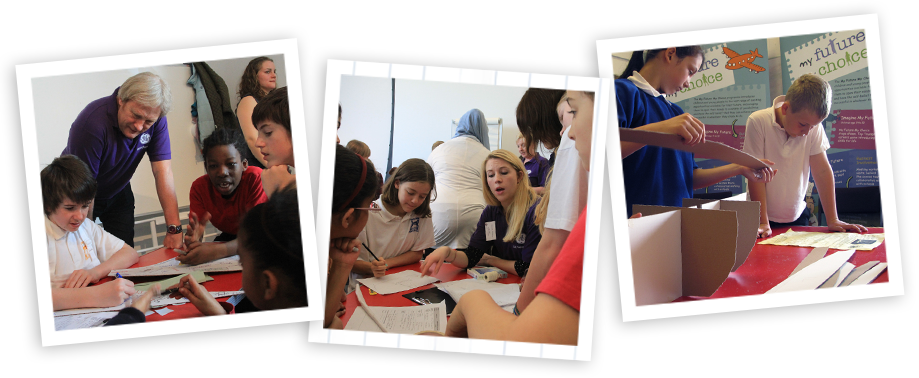 How our Programmes Work
The chance to work and talk with business and industry volunteers is key to all events
Play is an important element in engaging learners with volunteers and complex ideas
Experienced facilitators run the sessions so that volunteers can make the most impact by working with a small team of young people
Activity can be incorporated within the curriculum as an exciting experience that contextualises learning in school
Whole days or shorter sessions throughout a day
Feedback and review sessions to help build useful relationships between businesses and schools
Events are designed to be an annual part of a business's CSR programme that supports a school's curriculum
Where appropriate we create an annual celebration event or contribute to an existing festival that engages parents and community in the learning
Local heritage as well as possible futures are features of all programmes. We research appropriate historical references as well as current and future changes to the local economy or environment. This enables us to incorporate inspiring people, places or innovations that relate to the locality and boost young people's confidence and pride in their region.
Projects are delivered by a unique staff team of experienced creative makers and education leaders supported by volunteers
Business funding help keep the costs affordable to schools.